emWave ® Pro Plus
| | |
| --- | --- |
| Price (incl. VAT): | € 579.00 |
---
emWave® Pro Plus includes all emWave Pro coherence training activities for stress reduction, individual balance, optimal performance and personal growth plus two heart rate variability (HRV) assessments. emWave Pro can be upgraded to emWave ProPlus. These assessments can be used in a wide range of applications such as quantifying HRV levels in relationship to autonomic capacity, determining changes in HRV or coherence levels in research studies or interventions, and documenting physiological baseline shifts over time.
Assessments included:
1-Minute HRV Deep Breathing Assessment including age-related reference ranges for each HRV measure.
HRV Assessment that can be used in a wide range of applications.
1-Minute HRV Deep Breathing Assessment
Challenges the autonomic nervous system via a guided 1-minute paced deep breathing protocol with a visual breath pacer to determine the maximum amount of vagally mediated (parasympathetic) HRV the clients autonomic nervous system produces. Results of the standardized HRV measures are compared to age-related reference ranges and a report can be printed and saved. HRV collected using this protocol has a good correlation to the gold standard 24-hour assessment of HRV making it ideal for assessing how much overall HRV a person has.
HRV measures: Mean Heart Rate, Mean Inter Beat Interval (IBI), Mean Heart Rate Range (MHRR), SDNN, RMSSD, Normalized Coherence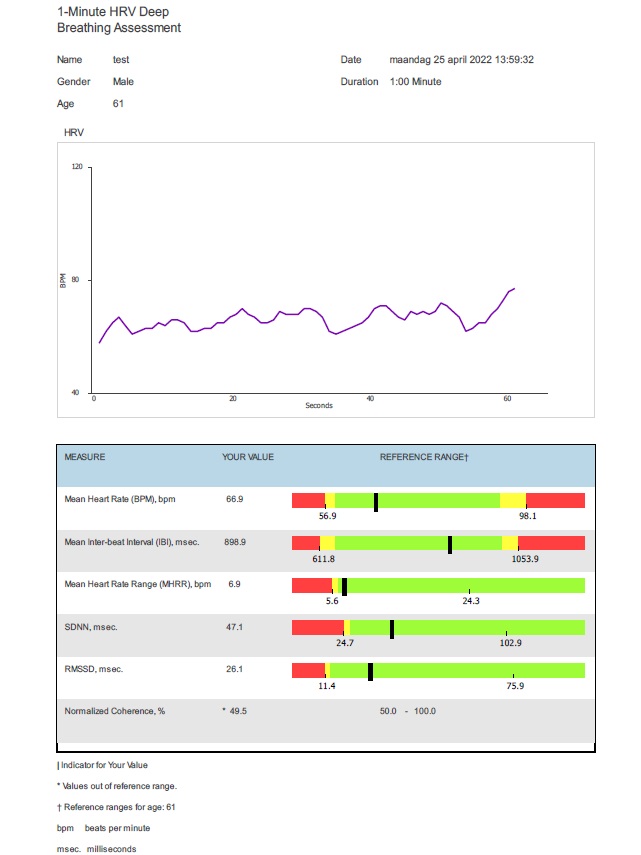 HRV Assessment
HRV assessment provides an analysis of heart rate variability with the most common standardized measures calculated from a user selectable time range between 2-minutes and 99-minutes.
HRV measures:
Time domain: Mean Heart Rate, Mean Inter Beat Interval (IBI), Mean Heart Rate Range (MHRR), SDNN, RMSSD
Frequency domain: Total power, VLF, LF, HF, LF/HF ratio, Normalized Coherence
Click here for an introduction video on emWave ProPlus and here for a basic course in HRV .
Features
370 Hertz sample rate of the pulse wave
Infrared pulse plethysmograph (ppg) ear sensor or optional finger sensor
Automatic pulse wave detection and calibration
Edit interbeat interval data to eliminate ectopic beats or other sources of artifacts prior to HRV calculation and reporting
Save client session history for review and observing changes across time
Users of emWave Pro Plus
Therapists
Psychologists
Physicians
Coaches and mentors
Physical therapists
Athletes, coaches, trainers
Researchers, teachers and students
System Requirements
Microsoft Windows® 7 or newer / Mac OS® X 10.7 Lion or newer
Intel® Core™2 Duo at 1.8GHz or faster
1 GB RAM—2 GB or more recommended
One available USB Port on computer
Note: Use of the emWave® and the HeartMath® exercises contained in the software as tools for individual balance, optimal performance and growth. Although this instrument and exercises are believed to be very safe and have potentially great benefit, no medical benefits or cures are expressed or implied. These programs and exercises are not to be used as, or used in lieu of, any course of medical or psychological treatment. Please note that emWave is designed to be a training and entertainment product. None of the feedback, summary data, or logging data provided in the software is to be interpreted as medically diagnostic.
---